Many Insurance Claims could be reduced by minimizing the exposure of your valuables to would be thieves.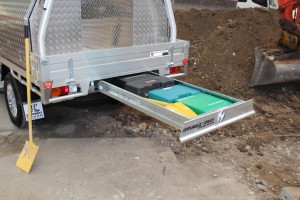 Our Trundle Trays™ are a great accessory available to help secure your tools.
Our Trundle Tray's  are constructed of galvanised steel material and have an extruded aluminium face for strength and waterproofing.
Our Trundle Tray Storage Drawer's ™  have sealed rollers ensuring durability, 3 point key locking for security and heavy duty rubber bump stops for added safety.
The design of the Trundle Tray's slide out drawer allows tradesmen to maximise wasted space in the under tray of your vehicle
Secure your tools and maximize your workspace with a lockable Trundle Tray™.
Why not go to our dedicated Trundle Tray website to find out more.... www.trundletray.com.au