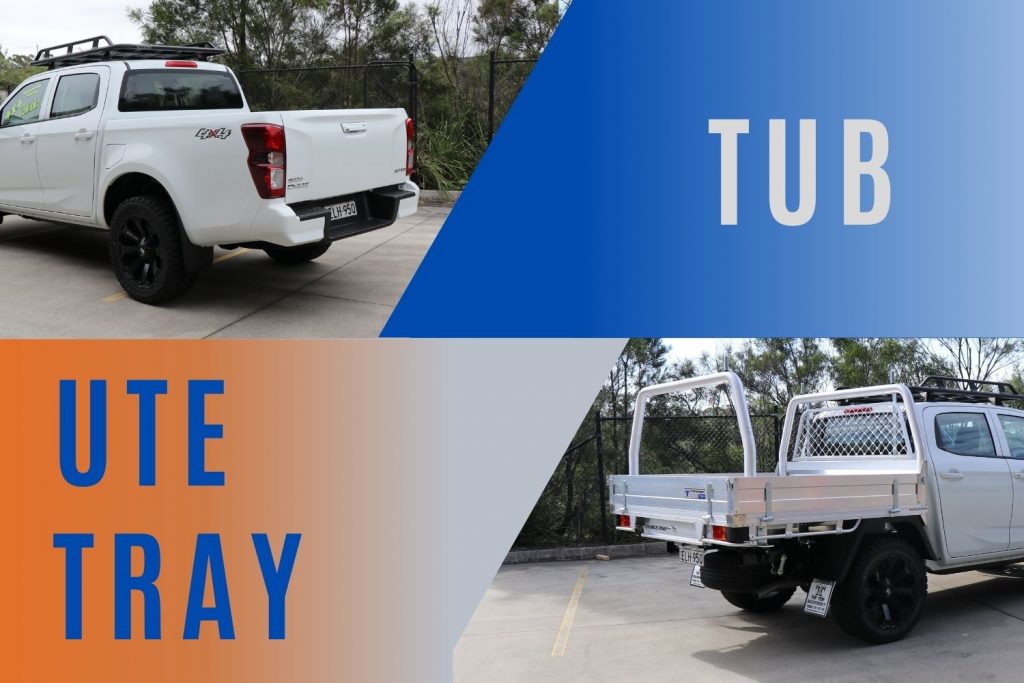 Should I keep my existing Ute tub or convert to a tray? It's the number one question that many new Ute owners struggle with when first purchasing their vehicle. In Australia, roughly 20% of all new vehicles purchased are Utes, so it is no surprise that thousands of Ute trays are fitted every month.
Let's take a look at some of the benefits of a tub conversion and why so many Ute owners opt for a heavy-duty alloy tray.
More Space
When it comes to storage space, the Ute Tray is a far superior option compared to a tub. While the tub on the dual cab Toyota HiLux SR5 has decent floor space, measuring at 1569mm long and 1645mm wide, if you chose to upgrade to Tip Top Equipment's Tradesman Tray you could increase the internal space to 1850mm long x 1810mm wide.
One advantage of a tub over a tray is that generally tubs are deeper than standard dropsides on Ute trays. While it is common for a tub to have 500mm deep sides, many trays sit at just under half of this. However, if it is tray height you are after then make sure you choose a reputable tray builder who offers drop side height increases on their trays, which are often available even higher than the pre-existing tub. For example, Tip Top Equipment offers 6 different dropside heights, at 225mm, 300mm, 375mm, 450mm, 525mm, and 600mm. Investing in extra high dropsides on your tray helps you to safely carry larger loads, taller items, and allows you to secure more volume with your tonneau cover.
More Storage Options
Apart from having more internal storage volume than tubs, Ute trays also provide more opportunities for storage solutions such as toolboxes, underbody boxes, Trundle Tray Storage Drawers, Canvas Canopies and more. Tubs can be very restrictive in terms of the accessories that they are compatible with, while Ute trays can be easily fitted with a range of optional add-ons that can transform your Ute into a mobile work station that uses the previously wasted space underneath the tray.
Visit out Tray Build Options to browse the types of storage options that Tip Top Equipment offers.
Easier to Secure
Securing your load is more important than ever before, now that unsecured loads can lead to large fines, lost demerit points, or even loss of license. While smaller items can be easily secured in a tub, using a tonneau cover or hard lid, the limited volume inside the tub makes this impractical for anyone who uses their Ute to transport larger loads of material or equipment. Tubs also have limited tie-down points, making it difficult and time-consuming to secure any type of load.
One fantastic thing about Ute trays is the huge variety of options available for securing loads, and how customisable they can be. The more tie-down points available, the more safely and quickly loads can be secured and transported.
Tip Top Equipment offers a range of load restraint options and add-ons including:
-       High tensile Rope Rails for typing down loads with ratchet straps (standard on an Ultra tray).
-       A 76mm Round Integrated Headboard that can be aligned with roof racks to carry long, heavy items (standard on the Tradesman and Ultra trays).
-       A rattle-free Rear Rack that can be fitted with additional accessories such as Ladder Pins, Bar Mounted Ratchets or Bar Mounted Eye Bolts (all optional add-ons).
-       Add-ons such as the Ultra Restraint Track and Recessed Anchor Points also provide additional tie-down points.
-       Mesh Headboards that provide occupant protection in the event of an accident.

Trays are Tougher than Tubs
Compared to a tub, both alloy and steel trays are far more resistant to scratching, denting, and other damage. While a tub may be sufficient for light use, if you are looking to transport heavy or rigid items, then avoiding damage to your tub is going to be more difficult. Tubs are made out of very light gauge material, meaning they dent easily and are expensive to repair. Scratches to a Ute tub can also be more noticeable than scratches to a tray, and chipped paint can quickly leave a tub looking unprofessional and unattractive.
At Tip Top Equipment, we use heavy-duty, engineered aluminium in our trays that is built tough to last a lifetime. It is designed to hold-up under tough use, and our classic, heavy-duty alloy flooring is rated to 2.75 tonnes per square metre. Our confidence in our trays is the reason we are able to offer a Lifetime Warranty on our Fleet, Tradesman and Ultra Trays.

Customisable
Another benefit of Ute trays is that they are highly customisable, and can be built to suit your industry and application. This is why it is important to choose a tray manufacturer that builds made-to-order, instead of a generic, flat-packed tray. Do your homework first, as for the same price or very similar price of a flat-packed tray you can get a purpose-built tray to suit your specific needs.
Investing in a setup that is optimised for your needs will allow you to maximise your Ute's capabilities and increase your efficiency. For example, some of the tray build options that are available for Tip Top Equipment trays include;
-       Tray Length Variations- to suit existing toolboxes and equipment
-       Drop Side Height Increases
-       Trundle Tray Storage Drawers
-       Steps- which are safer and provide better access
-       Different Racking Designs- which offer more versatility
-       Fittings, lighting, load restraints, and more…
For those in certain industries or applications, a tray also allows specialised tray solutions to be fitted to their work Ute. For example, Heavy-Duty Tippers, Tailgate Loaders, Mining Spec and Council Fitouts are all unique to Ute Trays, and can help transform your Ute into a fully functional commercial vehicle.

Here are some more things to consider when deciding whether to convert your tub to a tray:
-       Not All Trays are Created Equal: Universal, one-size-fits-all trays are prone to rattling and can cause a whole range of issues down the track. Tip Top trays are designed, engineered, and purpose-built for your vehicle, and are made-to-order in Australia from high-quality materials. They are also guaranteed to be rattle-free for life!
-       Tax Benefit: Investing in a Ute tray may provide you with a tax benefit, as often the tray qualifies as a deduction or write off.
-       Professional: A Ute tray can help legitimise your business, as they help vehicles look more professional. The drop sides, tailgate and toolboxes on a tray also provide a great location to display Vehicle Graphics. Signage can transform your vehicle into a mobile billboard, and help promote your business.
Interested in a tub conversion for your Ute? The team at Tip Top Equipment can help you out. Browse our range of Ute Trays here, or contact us today for a quote on a new setup!