Yes, there are a number of ute tray suppliers currently in the market today, however your Car Dealers continue to insist on using  Tip Top Equipment as their preferred tray manufacturer and supplier. Why? Well,  here is what they have told us...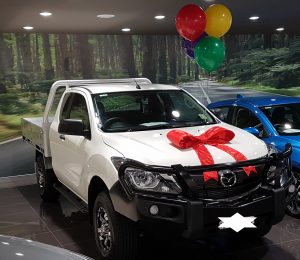 #1 – Mobile Fitting at their Dealership – We come to them!
Our onsite tray fitting service makes their job easier and gives their customers fast turnaround. The vehicle does not need to leave their premises, which saves in transport, logistical costs and reduces risk of damage to the vehicles.
We have a state of the art fleet of Mobile Fitting Vehicles on the road 5 days a week and our fitting teams are highly skilled & self supported. They don't need to have their staff available to help us.
Our mobile fitting service takes in Sydney Metro and some surrounding areas.  You know it's in safe hands!
#2 – Great Service: Fast Quotes & Fast Turn around
When they call us for a quote they know that it will be in their "inbox" when they need it.
Our standard trays are built and fitted to the vehicles for our metro & surrounds mobile fit areas 3 working days from receipt of purchase order.  Our supply only and some other POA regional mobile fitting areas we can dispatch in just 5 days from order.
You get your vehicle quicker!
#3 Dramatically Reduces their after Sales Customer Complaints
The dealers rely on us to build and fit our trays perfectly every time so this is exactly what we do. Because we only want quality products and happy customers out on the roads we ensure that every job is built and fitted exactly to the provided purchase order. Dealers are confident that they can handover their customers new vehicle & Tip Top Equipment tray knowing that their customer will not need to return with any complaints.  You will not need to be off the road.
#4 Quality Product at Competitive Prices
Our prices are just as competitive as the inferior imported trays other companies supply, the difference being most of our models are of heavy duty construction so they know that their customers are buying a better product. Ask us about our conditional 'Original Owner Lifetime Warranty*' on our alloy trays. Your tray will near outlast your vehicle!
#5 Tray Build Options that others can't provide
Their customers always need more than just a tray. That's where we step in… again because we build our own trays we have researched and developed many options for their customers that they simply can't get as quickly or of same quality anywhere else.  Their favourite tray build options would be being able to have the Fleet or Tradesman tray extended in length and increasing the height of the dropsides – all built and ready within 5-7 days. Their customers also request our Trundle Tray™ and 90 degree or trade racks so they can carry more.  You get a quote directly from the dealer for the complete fitout you need – just tell them what you want!
When you visit your dealership simply insist on a Tip Top Tray as its peace of mind for you and preferred by your dealer.
Customised, Ordered, Financed, Fitted and Delivered to you all in one spot at your dealership.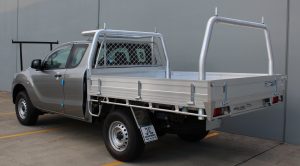 Alloy Tradesman Tray with Tray Build Options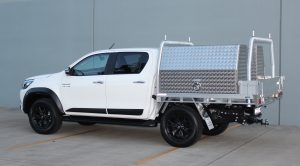 Tradesman Tray with Toolboxes and short dropsides